FOR IMMEDIATE RELEASE
Press Release: Spay Neuter Assistance Program of North Carolina now offers Zeuterin™.
The Spay Neuter Assistance Program of North Carolina (SNAP-NC) is the only spay/neuter service in North Carolina currently offering Zeuterin™. Dr. Laureen Bartfield, President, Program Director and Surgeon, is trained and certified in this groundbreaking procedure, as are each of our doctors.

Zinc Neutering (Zeuterin™) is the non-surgical, non-invasive neutering of male dogs aged at least 3-10 months. This FDA-approved, non-surgical (injectable) sterilant offers an alternative for guardians whose male dogs cannot safely undergo anesthesia or who do not desire surgical castration. The manufacturer and technology owner of Zeuterin™ is Ark Sciences.
The nonsurgical neutering consists of locally injecting a compound of zinc gluconate and arginine into the testicles. It works by killing sperm-producing cells, decreasing testosterone to between 41% and 52%. The testicles shrink some, but remain largely visible. The permanent sterilization procedure can be done in less than 10 minutes and requires only a mild sedative. All zeutered dogs have a green "Z" tattooed on their inner thigh.
SNAP-NC is very excited to offer this procedure to dog breeds more susceptible to complications from anesthesia (e.g., brachycephalic breeds like Pugs, Pekingese, Bulldog, etc.) or for dogs compromised in any way and at higher risk of anesthesia death, such as dogs with a history of seizures. We also hope Zeuterin™ will appeal to dog owners that are concerned about their dog's aesthetics after traditional castration.
Watch this video, offered by Ark Sciences, of Max being Zinc neutered.
Is Zeuterin™ an option for your dog? Visit Zinc Neutering (Zeuterin) Frequently Asked Questions.
SNAP-NC is a nonprofit organization providing discounted spay-neuter services to North Carolina residents. Our Mission is to address pet overpopulation in our state by offering high quality, low cost spay-neuter surgeries for pets belonging to North Carolina families in need.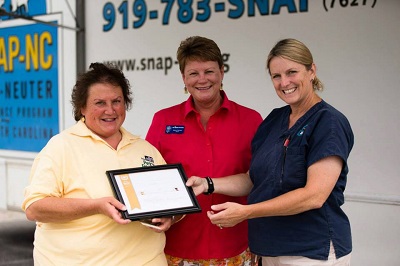 SNAP-NC receives a Certificate of Outstanding Service and a monetary donation from TAPPS (Triangle Area Professional Pet Sitters). We'd like to thank TAPPS for supporting our efforts to stop pet overpopulation in North Carolina! Pictured: Amy Dittig (President of TAPPS 2013), Nancy Stevens (Past President) and Dr. Barfield (Program Director, SNAP-NC).