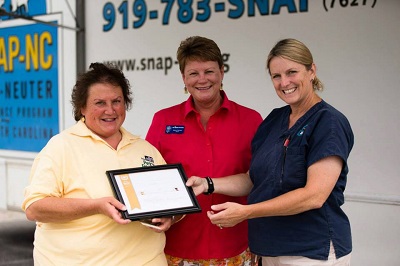 SNAP-NC receives a Certificate of Outstanding Service and a monetary donation from TAPPS (Triangle Area Professional Pet Sitters). We'd like to thank TAPPS for supporting our efforts to stop pet overpopulation in North Carolina! Pictured: Amy Dittig (President of TAPPS 2013), Nancy Stevens (Past President) and Dr. Barfield (Program Director, SNAP-NC).

SNAP-NC is "Here to Help"!
Click here to watch SNAP-NC being featured on WRAL's "Here to Help" segment. Reporter, Beau Minnick, experiences a day in the life on the SNAP-NC mobile hospital!