Have feral cats spayed or neutered!
Over 70% of cats who enter our nation's animal control pounds and shelters are killed - feral, stray, and companion cats. That number jumps to virtually 100% for feral cats. -Alley Cat Allies
In an effort to humanely reduce stray and feral cat populations through sterilization the Spay Neuter Assistance Program of North Carolina now offers a special price of $60 to have feral (wild) cats spayed or neutered.
What is a feral cat?
Feral cats can be the offspring of stray or abandoned domestic cats who have reverted to a wild state. They can also be the offspring of feral cats who have lived in a wild state for some generations. Finally, they can be domestic cats that have run off, or have been abandoned, or have "gone feral" meaning "gone wild." Feral Cats live in family groups called colonies and can be found anywhere there is food.
A stray cat is not a feral cat!
Feral cats MUST COME to SNAP-NC IN A HUMANE CAT TRAP. Below is an example of the type of trap you must use. [Size 26"x9"x9" or 32"x10"x12"]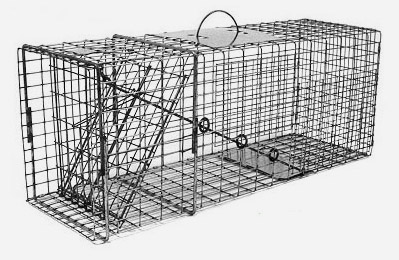 Click here for TRAPPING INSTRUCTIONS.
Where can I get a trap?
Tractor Supply or Agri-Supply Store


Ace Hardware


Tomahawk Live Traps online at www.livetraps.com


Borrow one from your local SPCA/Animal Shelter


Ebay
What services are included with the fee?
Spay/Neuter


Rabies vaccination


FVRCP Vaccination


Heat/Pregnancy


Ear Crop (Required)
Do you offer additional services for feral cats?
Yes! The following services are available for an additional charge:
FeLV/FIV Test
FeLV Vaccination
Profender Topical Dewormer for cats
Flea prevention applied
Microchip


$25
$15
$15
$15
$25
Is ear cropping (also known as ear tipping) mandatory for feral cats
Yes! The ear crop identifies feral cats that have been sterilized and vaccinated. Ear tipping is completely safe and it is painless because the cat is under general anesthetic when the procedure is performed. Ear tipping provides immediate visual identification, which alerts animal control officers that a cat is part of a managed colony. It also helps colony caregivers track which cats have been trapped and vetted, and identify newcomers who have not.
How do I make an appointment?
You MUST call our office at 919-783-SNAP (7627) to schedule your appointment(s). DO NOT come to the SNAP unit without a reservation confirmed by phone. DO NOT trap a cat without first making an appointment. We recognize that you may not always trap a cat as planned. The reservation is merely a way that we can be sure that we have room for your cats when you do succeed. We can only fit so many traps on board our mobile hospitals.
Copyright © 2018 SNAP-NC